ORANGE
ORANGE FOUNDATION'S 10TH BIRTHDAY


As part of a collaborative project with FWW Communication, we created an interactive website to celebrate the 10th birthday of Orange Foundation and showcase the incredible work they have done since launching in 2005.
The world has changed a lot since 2005, and we wanted to capture the scale of that change on the website. The growth of social media, smartphones, and the huge role that the internet now plays in our everyday lives has made the development of digital skills more vital than ever before.
Orange Foundation have been a driving force in helping people across Poland to develop these digital skills and realise their potential through the power of the internet and multimedia. Assisting people, young and old, to get online and improve their digital literacy is important work that we believe truly matters; so we wanted to make a website that not only recognises that work, but celebrates it.
That is why we decided to create a vibrant and engaging website full of bold colours, incorporating JavaScript animations and animated SVG images in a fully responsive design. Not only is the website modern and forward-thinking, it also captures the ethos of fun learning that the Foundation is all about.
All of our design choices were made with the key aim of highlighting the stories behind the work, and underlining the positive impact that Orange Foundation has had on the lives of real people across those 10 years.
PROJECT LEAD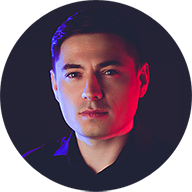 Adam Mucha
How about talking with Adam about how experience he gained in this project can be a help in achievieng your goals.