STREFA HPE
UNLOCKING NEW TECHNOLOGIES TO DRIVE IT BUSINESS SOLUTIONS


As a company looking to serve customers with information on the most cutting edge technology in IT, it was vital that the Hewlett Packard Enterprise website looked every bit as slick and forward-thinking as the content.
Frogriot and FWW Communication worked together to create a user-friendly knowledge base, designed to act as a hub for expert advice on IT solutions and emerging technologies for business. To accommodate the wealth of HP's knowledge, the website is divided into five key sections; blog, webinars, reports, forum, and games.
When designing this website, we ensured that UX was front of mind and we think that shows in how easy it is to use; not only does the website look great but it is fully responsive and works fluidly across all devices.
Hewlett Packard now has a community hub where they can engage their audience in a variety of ways. Not only can they share the latest news through blog posts, but they can document research and experiments through the web conference facility, engage with customers via the forum, and provide downloads of reports. Last but not least they can display their fun side in the games section!
PROJECT LEAD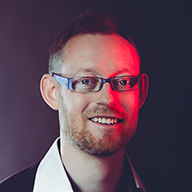 Radosław Mentel
How about talking with Radek about how experience he gained in this project can be a help in achievieng your goals.